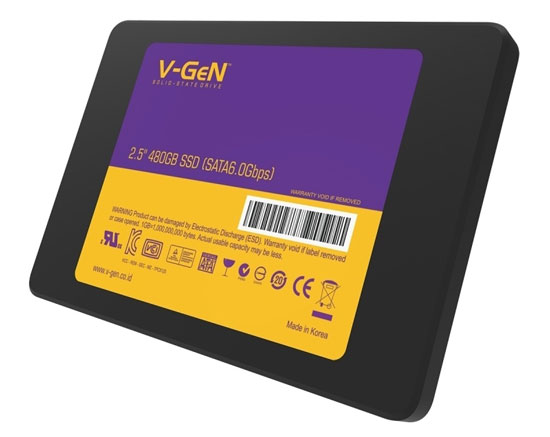 Are you in the market for a new SSD but on a tight budget? Look no further than V-Gen's SSD. While not as well-known as Samsung or WD, V-Gen's SSD offers steady and inexpensive performance that is perfect for those on a limited budget.
When I was looking to assemble a gaming PC for my blogging needs and light gaming, I came across the AMD Ryzen. It was recommended to me by the Indonesian PC Builders group as a good choice. But while other components were important, I knew that having an SSD was a necessity in 2019.
There are a lot of SSD products on the market, including big names like Samsung, WD, Adata, and Sandisk. However, when choosing an SSD, the two main considerations are performance and price. So, when I needed three 120GB SSDs but had a limited budget of 1 million rupiahs, I decided to purchase V-Gen's SSD at 300 thousand rupiahs each.
With V-Gen's SSDs, I've been able to use it for more than seven months, and their performance has remained fast. Plus, the low cost was great for my budget. But what really convinced me to choose V-Gen's SSD was that it used a Samsung chipset. This gave me more confidence in the quality, performance, and durability of the SSD.
For those who still have laptops running on HDDs, it's time to switch to an SSD. The performance gains are significant, and with most laptops already running Windows 10, the OS will no longer receive updates for versions of Windows 7 and below. With an SSD, you can speed up your laptop's performance while working and using it for various hobbies like video editing, rendering, gaming, or programming needs.
In my own experience, I had an old Asus X200CA Laptop with 2GB of RAM. With Windows 8 on an HDD, its performance decreased significantly. I was unable to upgrade the RAM as there was no slot on the computer, so I decided to buy a 120GB V-Gen SSD directly. The results were impressive, and my laptop's performance improved significantly.
While the V-Gen SSD is perfect for users on a tight budget, it's always important to make sure that it fits your needs. For instance, if you plan on installing lots of programs on the disk, we recommend going for the 240GB version to give you more room to install many applications.
Ultimately, the V-Gen SSD is a great choice for users who have a minimal budget. And while Samsung's SSDs may have a higher price, their quality and performance are undeniable. So, if you're someone who's wondering whether V-Gen's SSD is worth buying or not, then the answer is a definite "yes" as it's worth trying out.