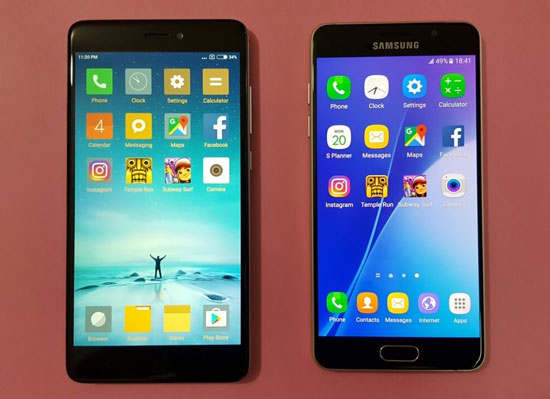 Samsung and Xiaomi are two smartphone brands that have made a name for themselves in the Indonesian market with their tempting products. In this article, we will compare these two brands in terms of price, specifications, camera, and performance to determine which one is superior.
Price
When it comes to prices, Xiaomi offers a price below the selling price of Samsung with specifications that are no less good. Samsung, on the other hand, usually offers a high price compared to other competitors. For example, the Xiaomi Redmi Note 5 and the Samsung Galaxy J6+ have almost the same specifications, but the Xiaomi Redmi Note 5 is superior to the Galaxy J6 + in many ways. The advantage can be seen from the battery sector between the two.
Performance
If you have a limited budget and want a smartphone with decent performance, you can look for the Xiaomi series. This is because the processor embedded in Xiaomi phones, on average, already uses the Snapdragon 600 series and above at a price of 2 million. Even some time ago, Xiaomi released a cellphone priced at 1 million, namely the Redmi 7, with a Snapdragon 632 processor. Meanwhile, Samsung only offers a Snapdragon 425 series processor.
The Xiaomi Pocophone F1 is one of the flagships with the cheapest Snapdragon 845 in its class. This phone is only sold at 4 million. Meanwhile, Samsung, which has the same specifications, namely the Galaxy S9, has a selling price that is 2x more expensive.
Display Screen
When it comes to the screen display, Samsung can be said to be better than Xiaomi. This can be proven as the new Samsung mobile phone already uses a Super AMOLED screen, while the new Xiaomi output still uses an IPS LCD screen. Additionally, the use of AMOLED screens has many advantages compared to IPS LCD, including the ability to save up to 10x power and brighter screen brightness, which is more friendly to the eye. The price of Samsung phones that use AMOLED screens is only around 3 million, while Xiaomi costs 3 million still using IPS LCD screens.
Camera
The camera sector is one of the hallmarks of the Samsung brand. Samsung has more innovation in developing its camera sector. Samsung has developed a camera that has a high resolution and is accompanied by a wide lens aperture. The aperture in a cellphone is very important as it has the function of the main road for light to enter the camera sensor. Therefore, even if you take photos at night or in low light, the results are still good and brighter. The Samsung Galaxy S9 series mobile phone is the first smartphone to have two apertures at once. This feature makes the Samsung Galaxy S9 camera resemble a DSLR camera. They also have cameras with facilities of depth sensors to focus on an object.
Meanwhile, Xiaomi is still stuck in developing its camera features. Most Xiaomi phones still rely on high-resolution cameras with low aperture levels. In addition, the camera sensors on Xiaomi phones are still standard. However, for those who want to take better photos using Xiaomi phones, third-party Xiaomi camera applications such as Google Camera can be used.
Conclusion: Which is Better?
Talking about which one is the best between Samsung and Xiaomi, of course, it depends on the capabilities and needs of the user. For those who need a cellphone that focuses more on performance, Xiaomi is the better choice. Not to mention, with a relatively lower price, Xiaomi offers specifications that are often far better than Samsung phones in its class.
However, for users who prefer a luxurious screen display, Samsung is the better choice as it is supported by an AMOLED screen compared to Xiaomi, which still uses an IPS LCD screen. In addition, Samsung continues to innovate in the camera sector, making it the better choice for those who want to take good photos.
In conclusion, Xiaomi is superior in the lucrative price and performance sectors, while Samsung excels in the display screen sector and its camera innovation. Ultimately, the choice between Samsung and Xiaomi depends on the user's needs and budget.