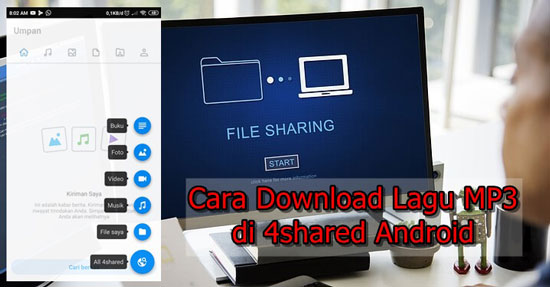 In today's world, music is an integral part of our lives. Many people prefer downloading MP3 songs via Google or other song sites. However, it is often a confusing process, and many websites make it difficult. Not to mention, sometimes user knowledge is lacking in the methods of downloading music, but there are still many ways to download MP3 songs through websites and applications.
One site that has been around for quite some time is 4Shared, where users can download various files such as audio files, documents, videos, images, and even compressed files for free. In essence, 4Shared is a free file-sharing site where users can upload files to the internet for free. Like Google Drive, 4Shared has an upload limit of 16 GB, so users can backup any file to the internet for free.
With the launch of the 4Shared Android application, users can easily search for files, including MP3 songs, and download them directly to their gallery. If you are interested in downloading MP3 songs through the 4Shared Android application, continue reading.
First, you must download the 4Shared application from Playstore. After installing it, open the application. If you do not have an account, register for one so that you can download songs later.
Next, please click on the search icon at the bottom right of the following menu and select the file type you want to download, such as audio files. In the search field, enter the name of the song you want to download or search for related words. Select the file you want to download and press the download button.
After the file is downloaded, it is usually saved automatically to the local storage or SD card that was previously set up. You can also see the audio file that was downloaded earlier on the homepage or the initial appearance of the 4Shared application.
Please note that this tutorial is only for adding knowledge or insight on how to download MP3 songs. You can download MP3 songs only as a review before buying the original version officially. For high-quality MP3 files, such as 320 Kbps, you can subscribe to music streaming applications such as JOOX or Spotify.
Alternatively, you can also use a song download application that we have shared on this blog. However, the average MP3 file from downloading songs on unofficial sites is of poor quality, which is only 128 Kbps. The good quality MP3 files are usually 320 Kbps, which can only be obtained from an official site.
If you need only certain parts of the audio, you can do the tutorial for downloading the song above. Many videos are circulating on YouTube, and with the creativity of video creators who can produce good works, you can use a song cutter application to take certain parts of a song for your video editing purposes.
In conclusion, the 4Shared Android application is an easy and useful way to download MP3 songs. For those who are still confused, the steps above should help them understand the process. Additionally, we may add a tutorial in the form of a video to help users who prefer a visual medium.