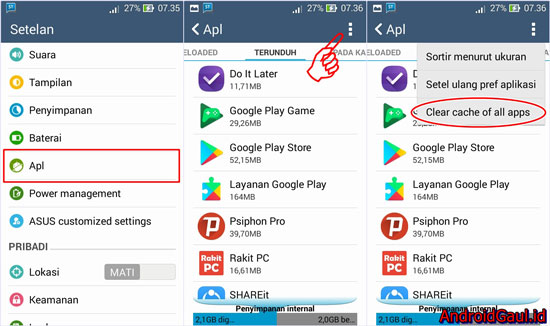 As smartphones have become an integral part of our daily lives, it is common for them to accumulate cache files. Every time we use applications such as games, browsers, or messaging apps like BBM, they generate cache files to store data like search history, images, and other information. However, if these cache files are not regularly cleared, they can cause frequent errors on the smartphone, as well as consume valuable memory space.
Clearing cache can help alleviate these problems. Although some applications may be slower to load and images may take longer to load in the gallery at first, this is typically a one-time issue. The cache files will be rebuilt over time, and the application's speed will return to normal. This process is similar to clearing cache on a PC or computer system.
Clearing cache can be especially important for Asus Zenfone users. However, users do not need to download additional applications to clean their devices. These features are already available through the device settings. Here are the steps to clear cache on Asus Zenfone without an application and without root:
1. Enter the "Settings" section.
2. Choose "Application".
3. Select the three dot menu at the top right of the screen.
4. Choose "Clear cache of all apps".
5. Select "Clear cache".
By following these steps, cache files from applications will be completely deleted, allowing the phone to run faster and more efficiently. This process should be done regularly, especially if you notice your Zenfone's performance is starting to slow down.
It is important to note that if you are not comfortable with this method, several cache removal applications are available on the Play Store. Clean Master is one of the many applications you can consider using to clear cache files on your smartphone.
Overall, clearing cache files is an essential process for maintaining the performance of your Android smartphone. The accumulation of cache files can cause frequent errors and slow down your device. Clearing cache not only allows the phone to run smoothly, but it also helps free up valuable memory space. By following these simple steps, you can make sure that your Asus Zenfone is running at its optimal level.