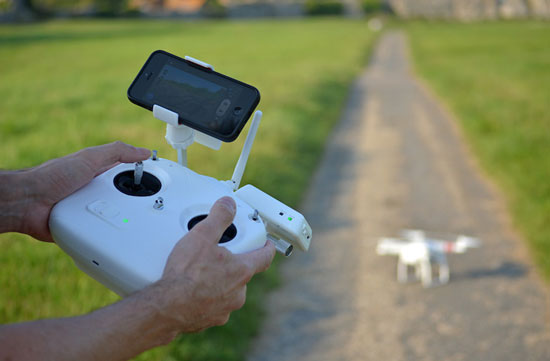 Drones have become a popular platform for capturing videos and photos from the air. With the advent of smartphone technology, controlling drones remotely has become much easier. There are several applications available on Android that can help users control their drones and ensure they operate safely.
In this article, we will discuss seven of the best drone applications on Android that pilots must install. These applications offer a range of features and are compatible with various drone models. Let's take a look.
1. AR. FreeFlight 2.4
AR. FreeFlight 2.4 is a free control application for Parrot AR drones and AR. Drones 2.0. The app enables users to control their drones by simply tilting their smartphone. This application is perfect for AR Parrot drone users who want to control the speed and direction of their drones using Android.
AR. FreeFlight 2.4 also allows users to capture HD videos while their drone is flying and send them directly to their smartphone via WiFi. With just one click, users can upload their videos to YouTube. This app is available for free on the Google Play Store.
2. Drone Deploy
Drone Deploy is a leading software platform for drone mapping with 3D modeling. The app offers automatic navigation and easy data capture, enabling users to explore and share high-quality interactive maps of their field directly on their mobile device.
Drone Deploy is compatible with various DJI drone models, including the Mavic Pro, Phantom 4, Phantom 4 Pro, Phantom 3 Pro, Phantom 3 Advanced, Matrice 100, and Matrice 600.
3. UAV Forecast
UAV Forecast is an essential application for DJI Phantom, DJI Inspire, 3DR Solo, and Parrot Bebop drone users. The app provides GPS, weather, and solar activity information, along with information on no-fly zones and safe flight restrictions. This app is ideal for pilots who frequently fly in high-risk areas.
4. Hover – Drone and UAV pilot app
Hover is a drone support application that offers a no-fly zone map, flight logs, weather data, and a flight readiness indicator. This app is widely used in the film industry for shooting process assistance and location observation. Hover is compatible with both UAV and Quadcopter drones.
5. Litchi DJI Phantom/Inspire
Litchi DJI Phantom/Inspire is an application designed exclusively for DJI Phantom users. The app enables users to control various features of their drone's camera, including exposure, white balance, and ISO. Litchi also features intuitive AI flight modes, such as tracking, orbit, and follow me.
6. Sky Viper Video Viewer
Sky Viper Video Viewer is an excellent application for Sky Viper Drone users. The app projects the camera view directly onto the user's smartphone screen using WiFi connection.
7. 3DR Solo
3DR Solo is an application designed exclusively for 3DR Solo drone users. The app enables users to take pictures and record videos directly from their smartphone using the camera on the 3DR Solo drone. With 3DR Solo, users can also control the drone's speed and direction and access real-time flight data.
In conclusion, choosing the right drone application is crucial for minimizing distractions and ensuring the safe operation of your drone. These seven drone applications on Android offer various features, compatibility, and safety measures that are essential for pilots. Install one of these apps and enhance your drone flying experience!