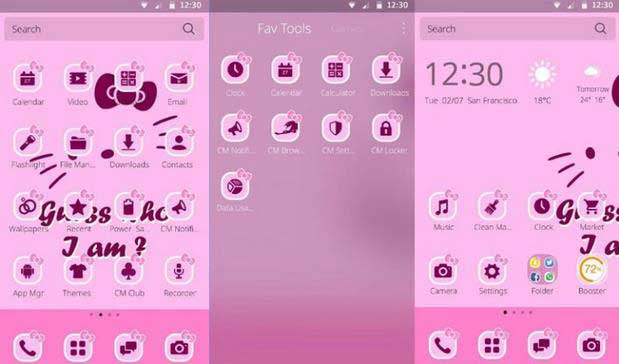 Hello Kitty, the cute white cat with a red bow on her head, is a character designed by the Japanese company Sanrio. Hello Kitty, whose full name is Kitty White, has become a popular character among women, with various accessories and household items adorned with Hello Kitty designs. Now, for fans of Hello Kitty who want to see her on their cellphone screens, there are plenty of options available in the form of themes. In this article, we will share 5 free pink Hello Kitty themes for Android users who love Hello Kitty.
1. Hello Kitty Theme
The first theme on our list is a fully pink theme where all the icons turn pink too. There is a clock widget and weather forecast displayed on the home screen, making it perfect for those who want to keep an eye on the clock and weather. This unique theme is loved by Android users and is definitely worth trying.
2. Hello Kitty Launcher Tiny Chum
If you're a fan of polka dots and cute pink colors, then the Hello Kitty Launcher Tiny Chum theme is the perfect choice for you. The unique icon dish is the main feature of this theme, adding a cute touch to your phone's overall look.
3. Hello Kitty Launcher
The Hello Kitty Launcher theme is a beautiful pink theme that features a full hello kitty icon. Additionally, users can directly download other fun themes from the app. This theme is loved by many Android cellphone users and is definitely worth considering.
4. Hello Kitty Icon Home
This theme features adorable icons that Android users can apply directly with this app. Along with icons, this app also offers a wide range of themes, wallpapers, and stickers that you can download. If customization is your thing, then this is the perfect theme for you.
5. Love Kitty-Solo Theme
The last theme on our list is the Love Kitty-Solo Theme, which offers a beautiful and adorable user interface specially designed for those who love cute characters. If you're a fan of cute and adorable themes, then this one is definitely worth considering.
There are many more pink Hello Kitty themes available on the Play Store, but the above themes are among the best and are guaranteed to add a fun and cute touch to your Android phone. Choose the one that best fits your style and enjoy a cute and fun phone layout. Download now and have fun with these themes.