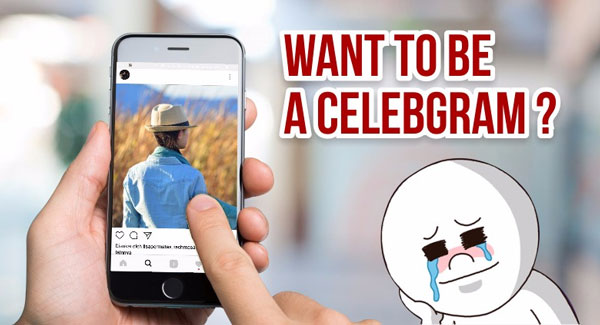 Instagram has become a widely popular social media platform, especially among teenagers. With Instagram, people are able to share valuable experiences with friends, exchange opinions through comments, and share happy moments captured through interesting photos and videos. Instagram has also allowed for individuals to become celebrities, known as "selebgrams". These accounts with the most followers become famous and can bring wealth to those behind them. For example, Ria Ricis started as a successful celebgram before transitioning into YouTube. Becoming a famous selebgram requires thousands, if not millions, of followers, as well as ample likes and comments on posts. Below are 13 tips to become a successful and famous celebgram quickly.
1. Make an Attractive Caption
To capture people's attention, it is important to utilize captions that are rich in meaning and tie in with the photos or videos being posted. This can be done easily through photo editing apps with text.
2. Create a Post Schedule
It is important to post content during peak times, usually in the afternoon or evening. This targets the average Instagram user, who is typically a teenager still in school.
3. Give an Impression to Followers
It is essential to keep a positive image, so as not to be labeled as a negative celebgram. Becoming known as a useful person for others can help build a good reputation and become a role model.
4. Create an Attractive Profile
To attract followers, post quality photos and videos and incorporate a meaningful bio that relates to your situation. You can also add highlight stories with content and covers that can attract people's attention.
5. Upload Quality Photos and Videos
It is vital to upload high-quality photos and videos that are visually appealing. Editing apps and well-recorded footage can also aid in engaging followers. Limit frequently posting unclear selfies, as this can cause boredom among followers.
6. Use Supporting Applications
Photo and video editing apps can be beneficial in producing content that is neat, unique, and simple. A consistent and polished feed increases the likelihood of followers seeing uploads.
7. Collaborate with other Celebrities
Collaborate with other celebgrams to produce unique content that attracts followers' attention.
8. Use Hashtags
Hashtags have a significant influence on Instagram and can increase followers if used correctly. Adding relevant hashtags can help your account appear in search views.
9. Have another Social Media Account
Having multiple social media accounts, such as Facebook, Twitter, and YouTube, can increase fame and recognition. Sharing unique content, such as daily vlogs, can draw people's attention.
10. Routinely Make Instagram Stories
Regularly posting Instagram stories with relevant hashtags or locations can help new followers find your account. Be mindful not to spam followers with too many stories.
11. Doing a Giveaway
Giving away followers can make them happy and attract new users to follow your account.
12. Switch to a Business Account
Switching to a business account can enable you to control your activity on Instagram and promote your posts.
13. Don't Spam Hashtags
Be cautious about spamming hashtags. Too many hashtags can make your account appear spam-like, causing users to ignore or unfollow you.
Utilizing these 13 tips can quickly make you a successful and famous celebgram on Instagram.