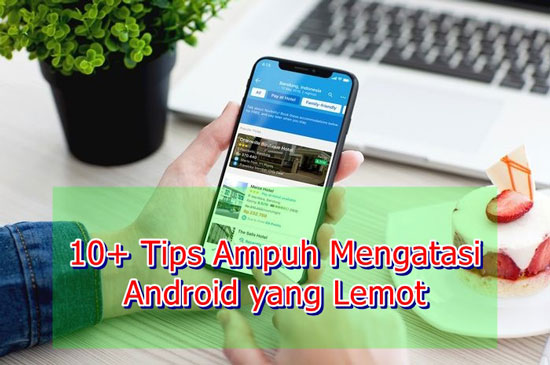 Are you frustrated with your slow Android phone? Despite the large RAM capacity, ranging from 2 to 8 GB, phones can still slow down over time due to reasons such as too many installed applications, almost full storage space, and outdated systems. However, with proper maintenance, you can keep your Android phone fast and efficient for years to come.
Here are 11 effective ways to overcome a slow Android phone that are not commonly known:
1. Minimize Installed Applications
Before installing an application, check your phone's internal memory and download only the apps that you truly need. The more apps you have, the more your phone's RAM is used, which can slow it down. If you're still experiencing slowness despite having a few apps installed, the culprit could be a bad or faulty application. Uninstall them, and then restart your phone.
2. Stop Automatic App Running
Some apps that are installed on your phone may be set to run automatically behind the scenes, even when they're not in use, which can consume your phone's RAM and slow down its performance. You can solve this issue by force-stopping such apps in the Settings menu.
3. No Need for Anti-Virus Applications
Contrary to popular belief, having anti-virus applications installed on your Android phones are not necessary. Google Play Protect feature can scan the applications you install and prevent viruses from entering your system. Thus, avoid installing anti-virus applications and restrict the installation of the apps from sources beyond Play Store.
4. Clear Cache and Recently Used Applications
Cache is temporary data collected by applications that were previously used. While it helps apps open more quickly, it also takes up phone storage and can slow down your phone's performance when it accumulates. Manually or automatically delete this cache data by going to your phone's Settings > Applications and selecting "Clear Cache."
5. Update Systems and Apps
Be mindful of updates or patches that developers provide to their apps or operating systems you use on your phone. These updates can fix past problems, add new features, and enhance security. Check for both system and application updates from Settings > About Phone > System Update menu or from the Google Play Store.
6. Use Essential Widgets
Widgets are features on your phone that allow you to monitor applications without opening them individually, making it easy to access your phone's features. However, widgets can also force your phone to run many apps side by side, so it's best to choose important widgets.
7. Turn Off Auto-sync
Automatic synchronization to cloud storage apps such as Google Drive, Gmail, and Google Account can take up your phone's resources, slowing down apps and performance. Disable auto-syncing if it's not necessary.
8. Use Lite Launchers
If the default launcher on your phone still feels slow, try a lightweight launcher for a smoother user experience. You can try Google's lightweight launcher, Google Now Launcher.
9. Turn Off Unnecessary Applications
Many default applications or bloatware such as Google Plus, Google Play Books, and Google Play Kiosk are unnecessary and can slow down your phone. Disable these apps in your phone's Settings > Applications > All.
10. Clear Recent Apps
Closing down recently-opened apps can free up your phone's RAM and improve its performance.
11. Reformat
If the above solutions do not work for you, you can try a final solution – factory reset or reformatting. This will restore your phone to its original factory settings and delete all apps, files, and viruses, among others stored on your phone's internal memory. Back up your important files before proceeding with the reformat.
In conclusion, by maintaining your phone and following the above tips, you can overcome a slow Android phone, extend its life, and prevent further sluggishness over time.