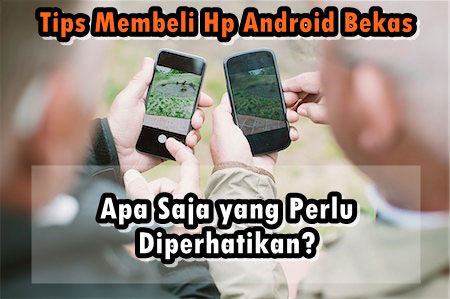 When purchasing a smartphone, it is important to exercise caution, especially when buying a used Android phone that has been previously owned by someone else. It is crucial to pay attention to certain aspects to ensure that you do not end up disappointed with any issues that arise after using it for an extended period. In this article, we will provide ten tips for buying a secondhand or used smartphone, specifically for those who are interested in purchasing an Android device.
1. Check the specifications: Before buying a used smartphone, check its specifications to ensure that they meet your needs. Whether you plan to use it for daily needs, social media, or gaming, make sure that the chosen specifications will remain relevant for at least two years. It is recommended to upgrade your smartphone every two years to keep up with advancements in technology.
2. Check the physical condition: Inspect the physical condition of the smartphone thoroughly, including the battery, body, and camera. Scratches are common on the back of the phone casing, and cracked screens are also a common reason for reselling. Consider the smartphone's body's quality when buying a used phone.
3. Check smartphone completeness: Make sure to verify the completeness of the accessories, including the box, original charger, headset, and any purchase notes. Ensure that you purchase a complete package to avoid purchasing a stolen phone.
4. Make sure all features work: Test all the smartphone features, such as the camera, Wi-Fi, Bluetooth, screen responsiveness, and touchscreen delays. Before purchasing, ensure that all the functions are working correctly.
5. Determine the right price: Once everything is checked and verified, determine the appropriate price for the smartphone. Do not rely on an exaggerated price while considering buying the phone. Research prices on popular online marketplaces such as Facebook, Tokopedia, or Bukalapak for an appropriate price range.
6. Guarantee: As much as possible, search for a seller that provides a guarantee of at least one week or one month from the purchase date. The guarantee ensures that you can return the smartphone if any components do not function correctly.
7. Check IMEI registry: Verify that the smartphone's IMEI number is registered with the Ministry of Industry to prevent purchasing a black market product that may get blocked in the future.
8. Use a secure payment system: If you decide to purchase a smartphone online, look for forums such as Facebook groups, Kaskus, Facebook marketplaces, and WhatsApp. Use a backup payment system such as a joint account (Rekber) to ensure secure payments. Platforms such as Tokopedia and Bukalapak can provide this service.
9. Purchase old stock items: Consider purchasing products classified as "old stock," which are smartphones whose trend period has ended, but their stock is still available. Such items are often cheaper than when they were first released and can be found on various online marketplaces.
10. Buy BNOB items: Brand new open box (BNOB) items are new items with open packaging, often sold on online forums. You might also want to check reviews of used items on platforms like YouTube, where content creators often resell their reviewed items at a lower price.
Conclusion
When purchasing a used Android smartphone, it is crucial to inspect its features, physical condition, and completeness carefully. By following the ten tips mentioned above, you can purchase a high-quality used phone and avoid any potential problems in the future. Additionally, make sure to perform your research before purchasing a used phone and to look for price comparisons on various online platforms.