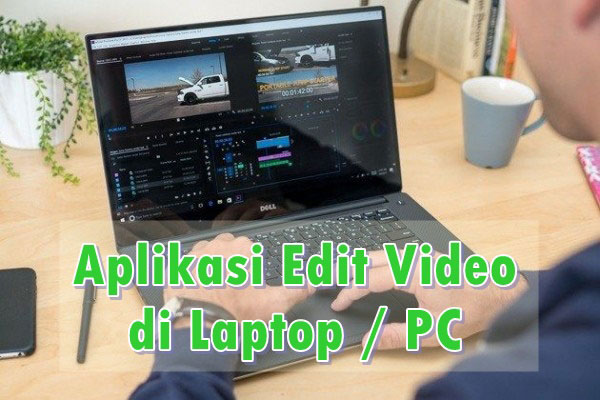 For decades now, video technology has been used to display moving images for various purposes. Not only is it used for personal gain, but it's also often used for commercials and advertisements, where videos perform better than still images. However, in order for a video to become an interesting show, it must go through various stages of editing, which can take several times and requires persistence.
Fortunately, today we have access to a wide range of video editing applications that we can use on our laptops and PCs. In this article, we will introduce you to 10 best video editing applications for laptops and PCs that you can use to edit your videos.
1. Sony Vegas Pro 13
Sony Vegas Pro 13 is the first video editing application on our list, and it consists of more than 300 filters and special effects. It offers a diverse choice of sound effects and supports VST plug-in effects as well as DirectX, Dolby Digital, and HD video capacity. This application can also help you create a three-dimensional (3D) effect on your videos, and the edits come in .veg format.
2. AVS Video Editor
Next is AVS Video Editor, a product made by Online Media Technologies Ltd, that can be used on Windows-based laptops and downloaded for free. It's easy to use and lets you Trim, Cut, Split, Rotate, Merger to Mix Videos and much more. It doesn't take up much space and doesn't leave any watermark.
3. Cyberlink PowerDirector 17
This application can be used on Windows-based laptops and is equipped with features like Magic Movie Wizard for automatic mode, 360-degree video, and multi-cam. It can also be used on XP, 2000, and Vista, and makes the video display more perfect.
4. Adobe Premiere Pro
Adobe Premiere Pro, developed by Adobe Systems, offers features that make the editing process easier and capable of displaying good image quality. It has a high-resolution of 10,240 x 8192 pixels and supports VST plug-ins and 5.1 sorround sound, which is compatible with Windows and Mac.
5. ShotCut
ShotCut is another video editing application that can be used on Windows, Mac, and Linux platforms, and supports up to 4k resolution. It can capture video from various sources like SDI, HDMI, webcam, and others, and the results of the edits can be easily saved and shared with various social media accounts.
6. HitFilm Express
HitFilm Express has a small file size of only 250MB and is friendly for the beginners, students, and YouTubers with more than 410 effects that can be downloaded on Windows and Mac.
7. Camtasia
Camtasia is a video editing application that can be used for screen capture, e-learning authors, and various content creators who want to share their video perfectly on platforms. It's recommendable to use to capture microphones and headphones for Windows XP, Vista.
8. Corel Video Studio
Corel Video Studio can be used to capture both video and audio and create photo slideshows. It has compatibility with Windows 7, 8, and the latest Win 10.
9. Avidemux
Avidemux can be used by Windows, Mac, and Linux, and has features like support for non-linear video editing, visual effects, and transcoding. The output format can use AVI, MPEG-1/1. OGM, MP4, and many more.
10. Pinnacle Studios
Pinnacle Studio is the last application on the list, used by more than 13 billion people, and released by Pinnacle System, Inc from California. It consists of various interesting features, 1,800 effects, templates, titles, and various transition options.
In conclusion, these are 10 video editing applications for laptops and PCs that you can use to edit your videos. There are several other applications that you can try to get the best results according to your wishes.