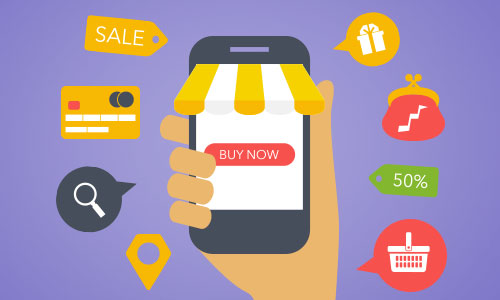 Indonesia's development in internet technology has paved the way for the birth and growth of many e-commerce startups. Nowadays, people can shop with ease and convenience online through websites and shopping applications. These online shopping apps have revolutionized the way Indonesians buy and sell goods, allowing them to purchase anything they need with just a few taps on their smartphone. In this article, we have listed the best and most popular online shopping applications in Indonesia.
1. Bukalapak
Bukalapak is the leading online marketplace in Indonesia that uses a consumer-to-consumer (C2C) business model. This platform provides a venue for anyone to open an online store and serve potential buyers from all over Indonesia, either individually or in large quantities. Bukalapak offers many payment methods, such as bank transfer, Indomaret, credit card, or cash on delivery (COD).
2. Lazada Indonesia
Lazada Indonesia is an online shopping application that offers a wide range of products, from household appliances, electronics, books, children's toys, to baby equipment. This platform was founded in 2012 and is part of the Lazada online retail network in Southeast Asia. One of the advantages of using Lazada Indonesia is free postage for certain purchases.
3. Tokopedia
Tokopedia is one of the online malls in Indonesia that operates under a marketplace business model and now has an application as well. Tokopedia's basic services were free until the end of 2015, and its vision is to build a better Indonesia through the internet. This platform also has a program to support Micro, Small, and Medium Enterprises (MSMEs) and individuals in developing their businesses by marketing their products online.
4. OLX Indonesia
OLX Indonesia was previously known as tokobagus.com, which started as a classifieds website in Indonesia and eventually became a place to buy and sell products and services online for free. The OLX Indonesia online shopping application offers quality new or used goods such as electronic products, sports equipment, household appliances, various services, job vacancies, and other products.
5. Blibli
Blibli.com is an e-commerce platform in Indonesia that uses the concept of online shopping like a mall. With this concept, Blibli hopes to make it easier for Indonesian people to find the items they are looking for, more effectively and pleasantly. Blibli is a product of PT Global Digital Niaga, a subsidiary of Djarum, which operates in the digital field and was founded in 2010.
6. Elevenia
Elevenia is an online shopping site and application with the concept of an open market number one in Indonesia. This platform operates under shade PT XL Planet, which provides convenience and security in shopping. It offers a wide range of products for online shopping enthusiasts.
7. Zalora Indonesia
Zalora Indonesia originated as a shopping website and application that provided clothing needs with various brands, both local and international. Customers who shop through this application are usually not charged shipping costs throughout Indonesia, and the platform guarantees the return of goods if the buyer is dissatisfied with the product. Zalora Indonesia was founded in 2012 by Catherine Sutjahyo and is part of the Zalora Group in Asia, which is also a subsidiary of an online shopping site called Zalando.
8. Shopee
Shopee was formerly known as Garena and is an e-commerce platform headquartered in Singapore under the SEA Group, founded in 2009 by Forrest Li. Shopee launched in Singapore in 2015 and has since expanded its reach to Malaysia, Thailand, Indonesia, Vietnam, Taiwan, and the Philippines. Due to the mobile element, Shopee is one of the "5 most disruptive e-commerce startups" published by Tech In Asia, which now has an online shopping application.
9. JD.ID
JD.ID is an online buying and selling application that offers various payment options. There are at least six payment methods available for users, including Cash-On-Delivery and online payment. This platform originally came from China, JD.com and specifically for the Indonesian market, the platform has become JD.ID. Users can find various items ranging from smartphones, tablets, laptops, clothes, to food and drinks. JD.ID offers various features, including filtering items by price and popularity.
10. AliExpress
Headquartered in China, AliExpress is an app that allows people to purchase products from abroad. It offers many types of products, including clothing, electronics, and gadgets. This application, launched by Alibaba, often offers various discounts and free-shipping promos.
In conclusion, these are the 10 best and most popular online shopping applications in Indonesia. Each platform offers unique features that cater to different needs and preferences. By using these apps, people in Indonesia can now shop with ease, convenience, and safety from their own homes.