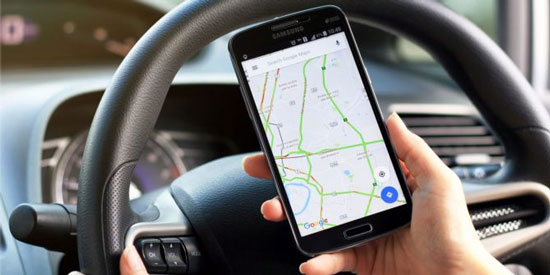 The advent of technology has made getting lost while traveling a thing of the past. With the best GPS applications available for smartphones, finding one's way around is now a breeze. The best part is that some of these GPS applications can function both online and offline, saving internet data. We have put together a list of the top 10 GPS apps, both online and offline, for Android phone users.
1. HERE WeGo – City Navigation
This is a popular offline GPS navigation app for Android users who prefer not to rely on internet connectivity. It functions like other apps, and provides public transportation information to over 1200 cities globally, including schedules and route changes. There is also a voice guidance feature that provides directions for turns or corners.
2. Wisepilot – GPS Navigation
Wisepilot is an online GPS navigation app that covers every location in the world. It is a data-friendly GPS app that does not consume much internet data. This app contains numerous interesting features, including an ability to recognize sharp turns, voice guides, speed signs, and speed limit warnings that ensure safety and comfort on every journey.
3. Waze – GPS
Waze Gps is the world's largest traffic-based GPS navigation app created by Waze. This app has voice guidance that offers a turn-by-turn direction. It also displays a route with the fastest and safest routes, saving gas and time. It is free to download on Google Play Store.
4. Navmii GPS World (Navfree)
Navmii GPS is considered one of the best driving GPS navigation apps for Android users that prefer using offline navigation. Navmii is available for 150 countries globally, including Indonesia. This app not only offers clear street views but also provides directions guided by a voice.
5. Locus Map Free – Outdoor GPS
If you are an adrenaline junkie who loves to hike or climb mountains, then this is the app for you. The Locus Map app can track your journey automatically from point A to B and even can save the path you take. The app offers both online and offline features and can be used as a Real-Time location pointer.
6. Polaris Navigation GPS
Polaris Navigation GPS is a user-friendly app created by DS Software. It is best for those who love outdoor activities like off-road, hiking, traveling, and trail. The app is both offline and online and is packed with many features such as the speedometer, which shows the driving speed or route.
7. Google Maps
Google Maps is a proprietary app from Google that comes preinstalled on every Android phone. It is an online GPS navigation app that provides detailed information for specific places worldwide. The app provides a GPS navigation guide for drivers, bicycle and pedestrian guidance, and transit directions for over 15,000 cities and towns.
8. OsmAnd – Offline Travel Maps & Navigation
This is a GPS app made by the developer OsmAnd. It accesses all places or locations worldwide with free and high-quality OpenStreetMap (OSM) data. This app offers both online and offline options making it great for everyone, including drivers, cyclists, pedestrians, and OSM editing.
9. BackCountry Nav Topo GPS PRO
This is a GPS application named BackCountry Navigator Maps GPS, developed by the developers critterMap Software LLC. Android users will love this app because it is offline and that means it doesn't require internet data and save more quota. This app is ideal for those who love adventure, backpackers traveling in remote areas like deserts and the like.
10. Sygic GPS Navigation & Maps
This app functions both online and offline and is made by Sygic. This app is notable for its advanced and complete features. With a 3D view feature, the app can touch all places around the world. Sygic GPS Navigation and Maps is completely free, making it stand out from some of the other apps in this category.
Conclusion
In conclusion, these GPS navigation apps are compatible with Android smartphones. Each has its advantages and disadvantages, so it is up to your preference to choose the best one for your needs. They are all free to download on the Google Play Store, except for a few paid apps. Find the one that suits you best and enjoy a safe and hassle-free journey!