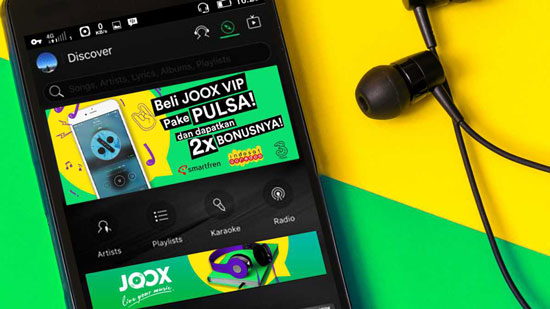 Music is a universal language that everyone loves. With the availability of music through various media, such as YouTube, local music players, and music streaming applications, there are many options one can choose from to listen to music. One such application is JOOX, an online music player with an extensive library and a host of features. In this article, we will explore ten advantages of JOOX that make it stand out.
1. Super Complete Music
JOOX has a vast library of songs from all over the world, and users can search for music by using keywords starting from genres, artists, and song titles. The application also features top charts and new release tabs that enable users to keep updated with the latest music trends worldwide. With a staggering number of songs, users are free to create personalized playlists and share them with friends.
2. Unlimited Licensed Music
JOOX offers licensed music, which allows users to appreciate the creators and artists who produced it. Hence, this method is more legal than downloading songs from other illegal sources. By subscribing to the VIP feature, users can download songs easily with a high-quality streaming experience.
3. Lyrics
For those who love karaoke, JOOX has a feature that displays the lyrics of the songs while listening to them. This feature enhances the listening experience and lets users connect better with the music.
4. Free Radio
JOOX offers a free radio feature that plays professional editors' hand-selected songs. Users can explore different genres, music styles, and follow personalized playlists curated by experts. This feature is accessible via the JOOX application, and it can accompany users during exercise, relaxation, or when hanging out with family.
5. Themes
For users who prefer to customize the look of their music player, JOOX has several themes to choose from. The application features a settings menu where users can select a theme that reflects their preferences best, enhancing their user experience.
6. Listen to Offline Songs
For users who are not always connected to the internet, JOOX allows them to download songs to listen to offline. This feature is particularly convenient for users who want to save on data charges and want to listen to their favorite tunes on the go.
7. Social Circle
JOOX enables users to share and connect with their friends through social media platforms such as Facebook and WeChat. By sharing what they listen to on the application, users can discover their interests, connect with like-minded people, and broaden their musical horizons.
8. Music Player
Aside from being a streaming application, JOOX also functions as a music player. Users can import songs from their internal storage or local disk and store them on the SD card to listen to them offline without a data plan. This feature is particularly useful for users who prefer to listen to music that is not available on the streaming application.
9. Timer
JOOX has a timer feature that automatically turns off a song after a specific period. This feature is particularly useful for users who fall asleep while listening to music before going to bed. Users can set the timer, and the application will automatically switch off the music after a particular time duration.
10. Streaming Quality Settings
JOOX has a feature that allows users to adjust the quality of the songs they want to listen to. This feature enables users to control their data usage and prevent them from running out of data packages.
In conclusion, JOOX is an excellent music streaming application with a plethora of features that enhance the listening experience. With a vast library of songs, personalized playlists, and the ability to download songs and listen to them offline, JOOX stands out from other music streaming applications. Its features such as lyrics, themes, and a timer, make it a versatile music player. JOOX's social circle feature helps users connect with friends easily, sharing their favorite songs and playlists. Overall, with its exceptional features, JOOX is a favorite among music enthusiasts worldwide.