With a glance
Expert assessment
Benefits
Apps for most devices
Choice of DNS servers
Unblocks Netflix, Disney+ and Hulu
Disadvantages
Ad blocking is a separate service
Mediocre speeds
Problems with the Windows app
Our judgment
AdGuard is a solid VPN that offers the basics across a wide range of devices. However, the basics aren't enough when you're paying good money, and the service pales in comparison to the best VPN services out there.
Price upon review
From $2.99 ​​for a two-year plan
Best prices today: AdGuard VPN Premium
AdGuard VPN is a freemium product that, like all VPNs, masks your identity by giving you a different IP address and thus making you appear to be in a different location, thereby masking your internet activity.
Servers may be in your own country, or may be in another part of the globe, meaning you may be able to access content that is not available locally. For example, if you set Adguard VPN to a US server, you will be able to watch the wider range of Netflix content available there, or watch live TV that has been "geo-blocked" in your location.
Despite what you might imagine, AdGuard VPN does not block ads. The ad blocking service, which the company has offered successfully for many years, remains separate and requires an additional subscription.
Although AdGuard has done nothing wrong here, this could be made a little clearer on their website, as some may assume that ad blocking is included due to the name. Plus, AdGuard is quite happy to send emails to subscribers telling them what they don't have, but can have against an additional fee.
Functions
As a freemium product, you can download AdGuard VPN and use it without paying. However, the free version is limited. You can only use the free version for up to 3GB of data per month – barely enough for an HD movie, and it throttles your internet speed by 20Mbps.
It's sufficient for most things, but if you're paying for a much higher speed from your provider, using a product that slows down your internet will be annoying. In general, we would always recommend paying for a VPN, but you may want to try the free version before deciding whether to subscribe.
From here we therefore look exclusively at the paid product.
AdGuard VPN is available for Windows, Mac, iOS and Android as a standalone app and offers system-wide protection. Alternatively, there is a browser extension available for Chrome, Edge, Firefox and Opera. This limits the protection of your web browsing, but as with so many "VPN" extensions, AdGuard uses misleading wording to make you think it's a VPN when it's actually just a proxy service that doesn't encrypt your connection. a VPN.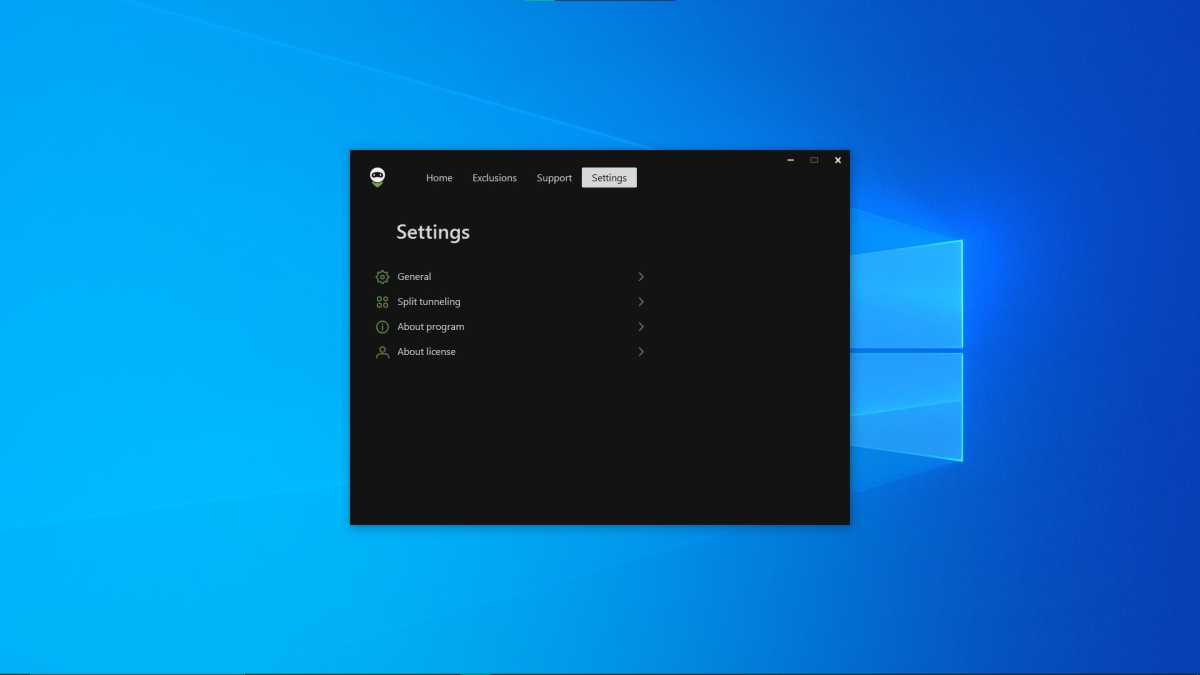 Chris Merriman / Foundry
A paid AdGuard subscription covers you for up to five simultaneous connections, but you can install the app/extension on as many devices as you like.
Android users also get an additional feature not available to free users: AdGuard's DNS servers. These ensure that your own ISP's DNS is not used, which could reveal your activity and possibly your location. There's even a choice between filtered and unfiltered, in case you set up the app on a child's device and want to protect them from adult and other inappropriate content when browsing the web. There are also other options, such as using Google's DNS, CloudFlare, and more.
Oddly enough, this is not in AdGuard VPN's other apps.
There's also an app specifically for Android/Google TV, which opens the door to streaming content from abroad on your TV, but it's a shame there's no equivalent for Amazon Firesticks.
AdGuard notes that it is unable to unblock content from the NBC streaming service Peacock. NBC content is notoriously difficult to access outside of the US, tripping up many VPNs, but if that's a deal-breaker for you, it's worth knowing. However, it does work with some of the major streamers – Netflix, Prime Video, Disney+ and HBO Max.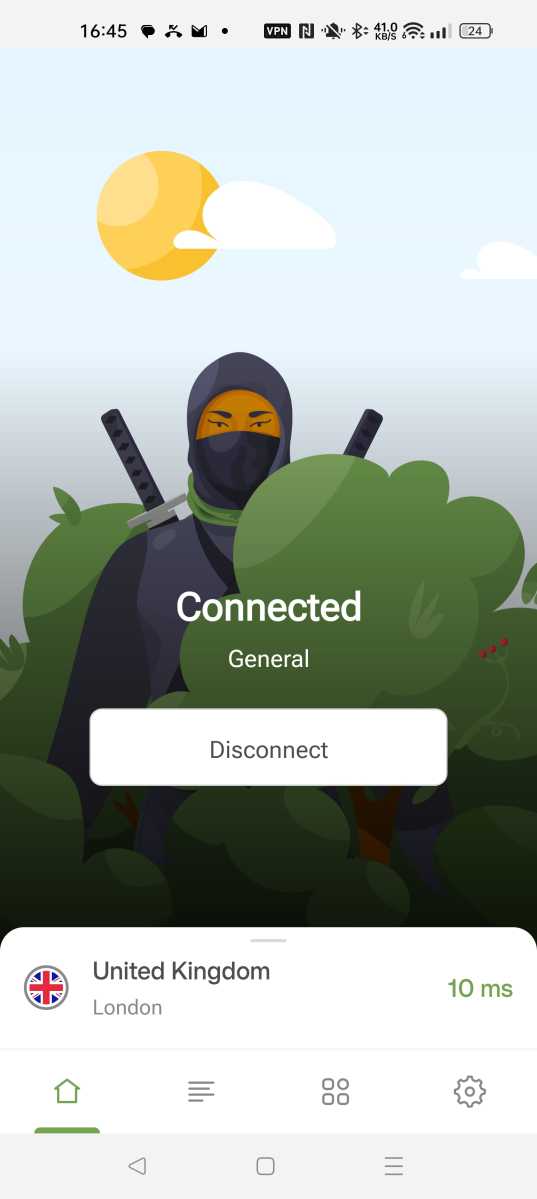 Chris Merriman / Foundry
On the downside, for more advanced users, the company has chosen to use a custom protocol, instead of the more commonly used OpenVPN or WireGuard. That means you won't be able to configure your router with AdGuard to offer protection to your entire home network, or unblock streaming on devices that don't support VPNs like game consoles and Apple TV and Roku devices.
Chris Merriman / Foundry
An advanced feature is split tunneling. This allows you to use both your regular internet connection and the VPN at the same time. Using a blacklist or whitelist, for example, you can set it to only use the VPN for Netflix, or set it to use it for everything except the BBC. This is a useful feature that adds to AdGuard VPN's appeal, and while it's standard on the likes of ExpressVPN and NordVPN, it's not a given with all VPN providers.
Privacy
Once you've chosen from 100+ servers in 44 countries, AdGuard VPN has a kill switch. This means that if it disconnects, it will completely block your internet access, rather than suddenly revealing your real connection. While testing, we experienced no drops.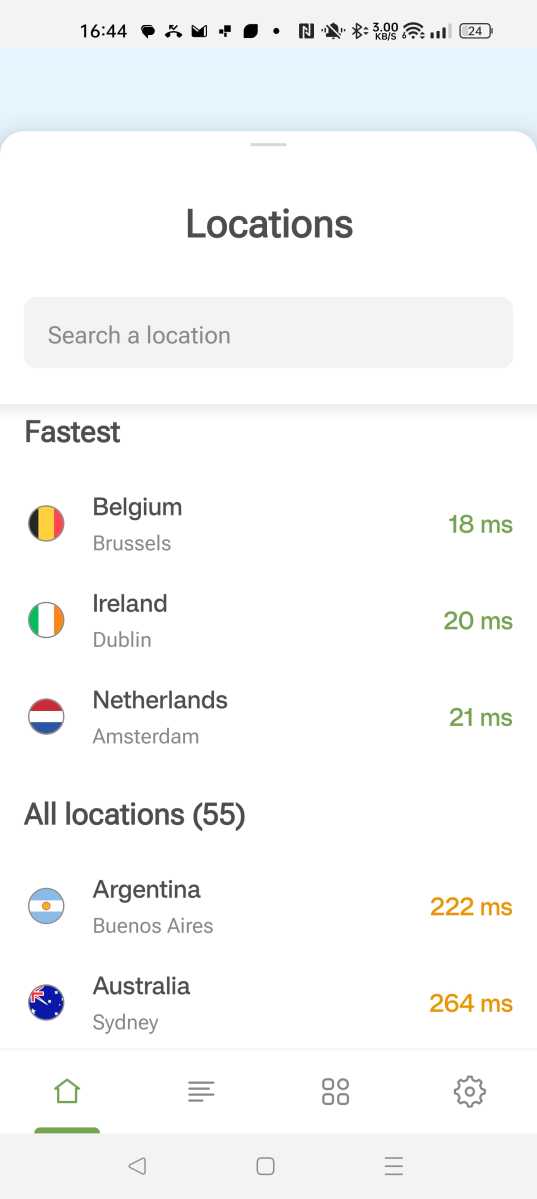 Chris Merriman / Foundry
From a privacy standpoint, AdGuard VPN has a no-logs policy. This means that if the company was asked to provide information about who uses their service and when, they could not, increasing the level of security and anonymity offered. Unfortunately, this has not been independently verified, so on this one we have to take the company's word for it that it really doesn't log anything.
AdGuard's jurisdiction is Cyprus, which means that all data is protected under European GDPR rules, offering greater protection than companies based in, say, the US.
AdGuard VPN does not offer the ability to run a "double VPN", which services like NordVPN do. This is where your connection is routed to one server and then another, so there's even less of an audit trail, and it prevents even the most determined from tracking you.
That's not a huge loss for most people though, and such features can often have a big impact on speed. The good news is that AdGuard allows Bittorrent traffic, so if you're trying to download, shall we say, "sensitive" files, you can do so anonymously.
One thing that impressed us was that when we gave the account login to a colleague to run speed tests, AdGuard's system detected the login attempt from another location and temporarily locked the account. This is the first time we've seen it happen and is a reassuring extra layer of protection.
Performance
AdGuard didn't leak our IP or DNS during our testing: the first important hurdle to clear for any VPN.
As for unblocking, we had no problem watching content from the services it claims to unblock, except for Prime Video. And it wouldn't allow us to watch HBO Max or BBC iPlayer either.
AdGuard's speed test results were less than stellar. Using a Gigabit connection in the Bay Area of ​​the US, with a base connection speed of 773 Mbps download and 945 Mbps upload, we found that using AdGuard VPN significantly slows down your browsing – here are the results for four key servers:
LA: 158/98
NEW: 78/57
London: 96/55
Tokyo: 8.5 / 9
While you won't feel a noticeable slowdown on many home broadband connections below 100Mbps, if you're lucky enough to have Gigabit broadband, want Feel the difference. As we mentioned, AdGuard VPN deliberately throttles the connection of its free customers, and these results were more or less as expected:
New York: 10/21
London: 21/22
Turkey: 10/8
(We were unable to test on the Tokyo/LA servers as these are not available to free users.)
Provided that AdGuard not deliberately throttling their paid customers, we can only conclude that the performance is not that good. Now that fast broadband connections are becoming widespread, AdGuard needs to optimize its protocol or improve its infrastructure because right now it can't compete with the best VPNs.
We also found an issue with the Windows app. When we woke the test laptop from sleep, Adguard VPN failed to recover and required us to close the program and restart it. There is an "Attempt to Restore" option, but it failed several times during our testing, and this became very frustrating.
Price and availability
VPNs tend to run specials all the time, especially if you're willing to pay for a year or two in advance. At the time of our review, AdGuard VPN was advertising a deal at $2.99 ​​per month (approx. £2.52) for a two-year subscription. This is paid in advance, so costs $71.76 (around £60.50). Paying per month is much more expensive, at $11.99 (£10).
Compare this to our current favorite, NordVPN, and it's about a dollar per month cheaper. NordVPN's two-year plan costs $4.15 per month, which is $99.63 up front.
However, given that NordVPN offers a much wider range of extras – including an adblocker(!) – and much better speeds, it makes AdGuard VPN seem like poor value, although it's worth adding that Nord does increase its prices on renewal after your subscription ends. AdGuard does not.
Verdict
Ultimately, AdGuard VPN is hard to recommend. It doesn't excel in any particular area, and it costs as much or more than other more capable services that offer better speeds, more apps, don't exclusively use proprietary protocols, and block ad packs at no extra cost.
With NordVPN, Surfshark, and Cyberghost all including ad blocking by default, the fact that AdGuard isn't a massive stretch is felt, especially when the combination of the two services makes it more expensive than those rivals.