Tennis fans expressed their enthusiasm on Twitter for Netflix's recent bid for tennis streaming rights. Netflix has submitted a proposal for streaming rights to major sporting events. The streaming juggernaut is reportedly interested in a number of sports leagues and events in addition to producing original TV shows and movies.
ADVERTISEMENT
The article continues below this ad
Netflix, the beloved streaming service, is warming up to the idea of ​​putting live sports on its platform. It plans to do so as long as it can do so without going bankrupt. It has already submitted bids for several events, including the British rights to the Women's Tennis Association and ATP Tour competitions.
ADVERTISEMENT
The article continues below this ad
Fans share their feelings and views on the new move from Netflix
Although no agreements have been finalised, this does not prevent future agreements from being entered into. Fans flocked to Twitter to share their approval and excitement over the legendary idea.
You may have to quickly change your perspective if you previously thought that Netflix was just a source for binge watching movies and TV shows. Netflix is ​​eyeing an unexpected revenue stream from live sports. The streaming giant will start by focusing on minor leagues.
Netflix is ​​bidding for professional tennis streaming rights as it considers offering live sports on its platform, people familiar with the matter say https://t.co/vrCDp9dCZI

— The Wall Street Journal (@WSJ) 8 November 2022
There is a lot of money to be made in live sports because watching a game or competition in person is much more satisfying than checking the results the next day. One enthused user was quoted as "You mean tennis in one streaming service, and there's no extra cost for it. YES."
Netflix's subscriber numbers could increase significantly if they successfully enter the tennis market. Many users shared their approval and joy at the innovative move of Netflix.
With a bid for the streaming rights to the ATP tennis tour in Europe, it seems that Netflix's first focus is tennis. However, some users were quick to tweet out their concerns.
It shouldn't come as a big surprise that Netflix wants to attract more subscribers. Several fans shared their support for the live stream and repeat telecasts of the major title events. One such user tweeted, " ATP Tennis Live on Netflix, YES please!"
This would be a DREAM. I missed the entire first set of the WTA finals yesterday because TC is a useless service.

We need a major streamer to expand access for loyal fans and increase discovery for newbies. https://t.co/QWRiOQQQbU

— AJ Eccles (@AJEccles) 8 November 2022
Many users quickly shared their plans and activities were planned in anticipation of the new move.
As much as I would love this, I'm sure Netflix will use this as a way to double the subscription price. Sigh. https://t.co/9zz79EPdGf

— 🅿️aul Adedoyin (@ThegentlePaul) 8 November 2022
I need to scrub my profile of all the old Ealing comedies I've been watching lately on Netflix or I'd only be watching Harriet Dart matches https://t.co/79SQTH8b4K

— tomera (@MjTomera) 8 November 2022
One user quickly tweeted her problem.
Fans are waiting for the results of the streaming service's idea. Since many of its streaming competitors have spent a lot of money to gain access to prominent sporting events, Netflix can enter the sports market with full force.
Netflix docuseries about Osaka explored the inner world of the tennis champion
ADVERTISEMENT
The article continues below this ad
The personal journey of a tennis pro is linked in the Naomi Osaka docu-series on Netflix. It explored issues of race, nationalism, civil rights, modern media and how athletes are marketed to the world. These three, forty-minute episodes paint a picture of a young woman who is shy, deliberately intelligent, and painfully perceptive as she struggles with an unexpected onslaught of fame and success. It is also one of Osaka's strongest seasons to date.
DIVE DEEPER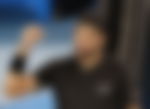 In addition, more often than not, fans see qualified journalists politely asking relevant questions, which Osaka deflects with a practiced restraint and shy grace. And no attempt is made to address the huge controversy surrounding her decision to speak to the press, which most likely happened after filming had finished.
ADVERTISEMENT
The article continues below this ad
The 2019 documentary Time's Oscar-nominated director Garrett Bradley spent two years capturing Osaka at crucial moments. To give viewers the impression of being with Osaka as she progresses through each challenge, Bradley created an immersive experience. Let us know what you think of this Netflix documentary in your comments below.
WATCH THIS STORY – Everything you need to know about Conor McGregor's Netflix documentary