The best recumbent bikes for 2022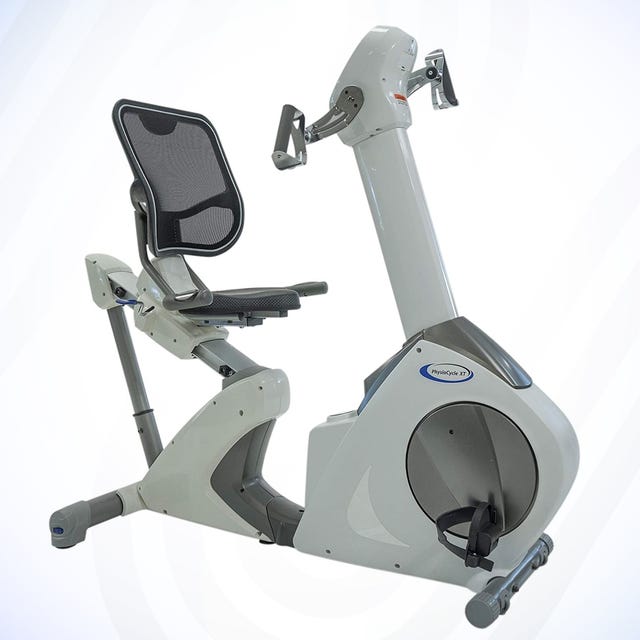 Runner's World; With permission from HCI Fitness
Recumbent bikes are designed to allow users to sit in a reclining position, which provides a more comfortable cycling experience and puts less strain on the joints than standing stationary bikes. This makes them well suited for older users or arthritis sufferers looking for a workout with less effect, or anyone working through a physiotherapy or injury recovery program. These machines are also significantly less expensive than standing bikes, making them a cost-effective option for fitness lovers who still want to enjoy the benefits of an exercise bike.
The best recumbent bikes
What to consider
When choosing a recumbent bike, think about which features will be most beneficial to you and your training goals. If you really want to dive into a serious training program, you should consider choosing a bike with a good selection of programs and resistance levels, so that you can continuously increase the level of difficulty as you get fitter. You will probably also want a model with a large, interactive screen that allows you to better visualize your progress and your current workout. (If you want a workout that is even closer to actually cycling, you may want to consider a standing bike instead.)
If your priority is to prevent boredom and motivate yourself to exercise a little more, choose a bike with a dedicated space for a tablet or mobile device. This allows you to easily enjoy streaming entertainment, even if you are not in a room with a TV. The more fun your training experience is, the more likely you are to do it regularly.
Perhaps most importantly, think about how much space you have in your home, and choose a bike that fits comfortably. It may take a few minutes, but take the time to use a tape measure to really make sure your recumbent bike fits in the space you plan to use it. This step can save yourself a lot of trouble in the long run.
How we chose
We selected the options on this list by first examining the current options for the recumbent bike, and after using several models in the past, we used our personal experience to help select a number of options that would be most useful for first-time users. Although we did not physically test the models on our list, we used a combination of customer feedback on specific models and the advice and recommendations from reputable review sites to land among our top picks. We also kept the prices in mind during our search, to ensure that you, regardless of your budget, will be able to find an alternative that still suits your needs.
For more great additions to your home training sessions, check out our selections for the best home training equipment, exercise bikes and adjustable manuals!
Advertisement – Continue reading below
1
Best overall
Recreational bike Series R618
Bluetooth connection
Upholstered gel seat
Media stand to hold the tablet
Key specifications
Dimensions (L x W x H): 67.3 x 26.4 x 48.8 inches
Resistance levels: 25
Weight: 107 lbs
Maximum user weight: 325 lbs
Heart rate monitor: Yes
With a relatively low price, wide range of applications and resistance settings and Bluetooth connectivity, this Nautilus bike is a great addition to any gym. The connectivity features let you sync your workouts with app-based workout trackers, or you can keep things simple and just use the included LED screen to keep track of your progress. You'll have to pay extra for it – and use your own tablet to see it – but their "Explore the World" app may be worth it for users who practically want to cycle up to 50 cycling routes around the world. Some assembly is required, but the majority of reviewers commented that the process was simple and should take about 2 to 3 hours.
2
Best easy-to-ride bike
ME-709 horizontal exercise bike
Simple design lets you get started
Sturdy construction
Easy to read screen
No Bluetooth function or heart rate monitor
Key specifications
Dimensions (L x W x H): 58 x 25 x 38 inches
Resistance levels: 8
Weight: 61 lbs
Maximum user weight: 300 lbs
Heart rate monitor: no
If you are not interested in the watches and whistles of advanced models, and just want a basic bike for simple workouts, this Marcy model can fit perfectly. The undressed controls – just three buttons to choose from – will also be great for users who are overwhelmed and confused by cluttered control panels. Despite the simple setup, this model still provides a good amount of data, including training time, speed, distance, calories burned and an odometer – more than enough for the casual user. In addition, at just 86 pounds, it is relatively easy to move around and assemble.
3
Best high-end full body option
PhysioCycle XT recumbent bike
3 year warranty on mechanical and electrical parts
"Consistent" design
Heart rate monitor
Very expensive
Missing tablet storage
Key specifications
Dimensions (L x W x H): 37 x 24 x 58 inches
Resistance levels: 8
Weight: 146 lbs
Maximum user weight: 330 lbs
Heart rate monitor: Yes
The high price tag may scare some users, but if you are looking for a model that offers both upper and lower body training, this HCI Fitness bike may be worth the investment. The "walk-through" design makes it safe and easy to assemble and disassemble the machine without fear of tripping, and the contoured seat will provide the support and cushioning you need for long workouts. The bright LED screen and the simple controls allow you to program and follow your training, and the control pedals offer eight levels of resistance.
4
Best low cost option
Essential horizontal exercise bike
Very low price
Pulse sensor
Comfortable seat
Not as durable as advanced options
Digital screen is very small
Key specifications
Dimensions (L x W x H): 46 x 24.5 x 38 inches
Resistance levels: 8
Weight: 58.7 lbs
Maximum user weight: 300 lbs
Heart rate monitor: Yes
Just because you have a limited budget, does not mean you can not enjoy the health and fitness benefits of a recumbent bike. This Sunny Health & Fitness bike is affordable, but still has useful features such as a heart rate sensor, self-leveling pedals and eight resistance levels. The lightweight frame and integrated wheels on the front of the unit make it easy to roll around, whether you drive it into a cupboard or move it behind the sofa. This bike will not be as durable as heavier models, so if you are looking for something to tackle frequent, long-distance rides, you may need to find a more expensive alternative.
5
Best basic screen
270 recumbent bike
Very quiet operation
Carbon steel frame
Heart rate monitor on grip
Key specifications
Dimensions (L x W x H): 64 x 27.7 x 49.9 inches
Resistance levels: 25
Programs: 29
Weight: 86.6 pounds
Maximum user weight: 300 lbs
Heart rate monitor: Yes
If you do not need a dedicated entertainment screen and just want basic, easy-to-read LCD screens that display your training data, this bike is a good choice. The bright, backlit screens provide visual diagrams of your chosen cycling course or training program, so you always know exactly how much time you have left or the remaining distance. This bike also has the Bluetooth connection needed to sync your favorite workout apps, and the USB charger lets you keep your phone or tablet turned on while you work out. The upholstered seat also provides a comfortable ride.
6
Best for full body resistance
Magnetically lying exercise bike
Low price
Effective workouts
Comfortable seat for solid foundation
The handle height cannot be adjusted
Key specifications
Dimensions (L x W x H): 60 x 25.5 x 52 inches
Resistance levels: 8
Weight: 95 lbs
Maximum user weight: 350 lbs
Heart rate monitor: Yes
Do you want to add some resistance to your upper body to maximize the effectiveness of your cycling training? The rotating handlebars of this Sunny Health & Fitness model allow you to pump your arms while pedaling, and have adjustable resistance settings, just like the bicycle part. If you want, you can avoid stepping completely and simply plant your feet on the floor to specifically target your arms and shoulders. A digital screen provides up-to-date training information, and the handy device holder lets you easily watch movies or TV shows on your phone or tablet.
7
Best folding option
Indoor bike
Easy to store
Lightweight design
Key specifications
Dimensions (L x W x H): 43.31 x 15.75 x 7.87 inches
Resistance levels: 8
Weight: 42 lbs
Maximum user weight: 265 lbs
Heart rate monitor: Yes
If you have little space or just want your bike easily when you have finished using it, you should consider this Ativafit folding bike. Its X-shaped design provides both a solid foundation while exercising and also makes it easy to fold and store when you're done. A pair of front wheels, combined with the low weight of 42 pounds, make it easy to roll from room to room if you want. Keep in mind that the maximum user weight on this bike is only 265 pounds, which is lower than most other options on our list.
This content is created and maintained by a third party, and imported into this site to help users enter their email addresses. You may find more information about this and similar content on piano.io
Advertisement – Continue reading below