'Lakelands': Galway Review | Reviews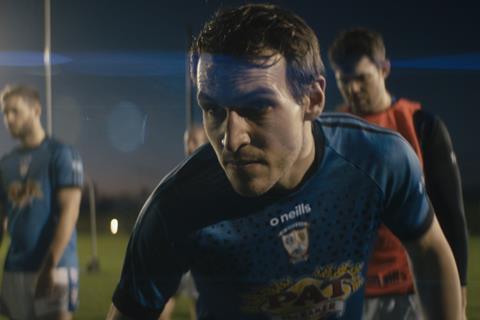 Directed / written by: Robert Higgins, Patrick McGivney. Republic of Ireland. 2022. 100 minutes
A sensitive exploration of a young man's settlement with his fate in rural Ireland, Lakelands Initially, it seems to cover a well-known dramatic area in a seemingly low-stakes story, but in fact this feels fresh, both for the Irish audience and for niche markets elsewhere. The creative partners Robert Higgins and Patrick McGivney fill their misleading little story with a bunch of gripping themes while the protagonist Eanna Hardwicke convinces as a boy about a small town whose dangerous concussion forces an uncomfortable to face his future.
The key to Higgins and McGivney's screenplay success is how unknown Cian can be
As Irish filmmaking increases, it finds a quiet self-confidence: Higgins and McGivney like to take things slow in the town of Granard, Longford, where the next night comes via a bus to Cavan, 58 miles away. This is where Hardwick's character, Cian, is turned upside down after a match at a club. If Cian loses his place on the local football team as a result – this is a city where the Gaelic Athletics Association (GAA) is a key player everywhere, not just on the pitch – then what is left for him, alone on the farm, is still in conflict with sin sinte far (Lorcan Cranitch)?
The limited number of films affected by this topic has tended to treat it in an extremely high-effort way – Concussion took place in the American Football League, for example. Higgins and McGivney have the confidence to let their story play out: they give Simon Crowe's camera space to talk, Daithi's score room to sing, Hardwicke time to think.
Lakelands is a film about the countless young men in the sport's minor leagues who suddenly have to find out who they are without the game. It can be a bit cumbersome in this deserted city with an angry father, although Cian's tentative, revived friendship with the visiting Grace (Danielle Galligan), who has left the city for a career in nursing in the UK, softens the play to a sympathetic reflection on masculinity and being left behind.
The key to Higgins and McGivney's screenplay success is how unknown Cian can be. He enjoys the role of the boy Jack, but gets up early to take care of his jobs on "my farm", and is touchingly tender to the animals. He drinks too much, takes drugs and causes fights, and depends on his own raw strength to take him through the role of captain of the local Gaelic football team, the source of much pride in society. When he is beaten up one night after a meaningless, drunken quarrel, it is a shock to him when that force does not return – even though he should have read the signs, since it has been eight years since he left school. He still has the self-destructive tendencies of a youth, and is mutiny with his hard-nosed father.
There is a general lack of understanding of the dangers of concussions, and the local community sees it as just another chaos on Cian's part (an impatient "what's wrong with you now?" Emphasizes the ignorance of the game). Full of bravado, Cian is still very vulnerable, and the film's strength lies in how touching he can be, stumbling into adulthood, trying to find a way through while knowing that his future lies here, in this small town.
Scenes set in a wake are touching and remarkably well handled. Technical credits work in harmony, camera and score are remarkable assets. If Lakelands has a close relative in recent filmmaking it is in God's own land, but it goes its own way.
Production company: Harp Media
International debt: Bankside [email protected]
Producer / Script: Robert Higgins, Parick McGivney
Cinematography: Simon Crowe
Production design: Chris Higgins
Editing: Allyn Quigley
Music: Daithi
Starring: Eanna Hardwicke, Danielle Galligan, Lorcan Cranitch, Dafhyd Flynn, Oisin Robbins