Comic artist and illustrator David Aja shares unused artwork created for the Disney+ series Hawkeye that evokes the style of the source material.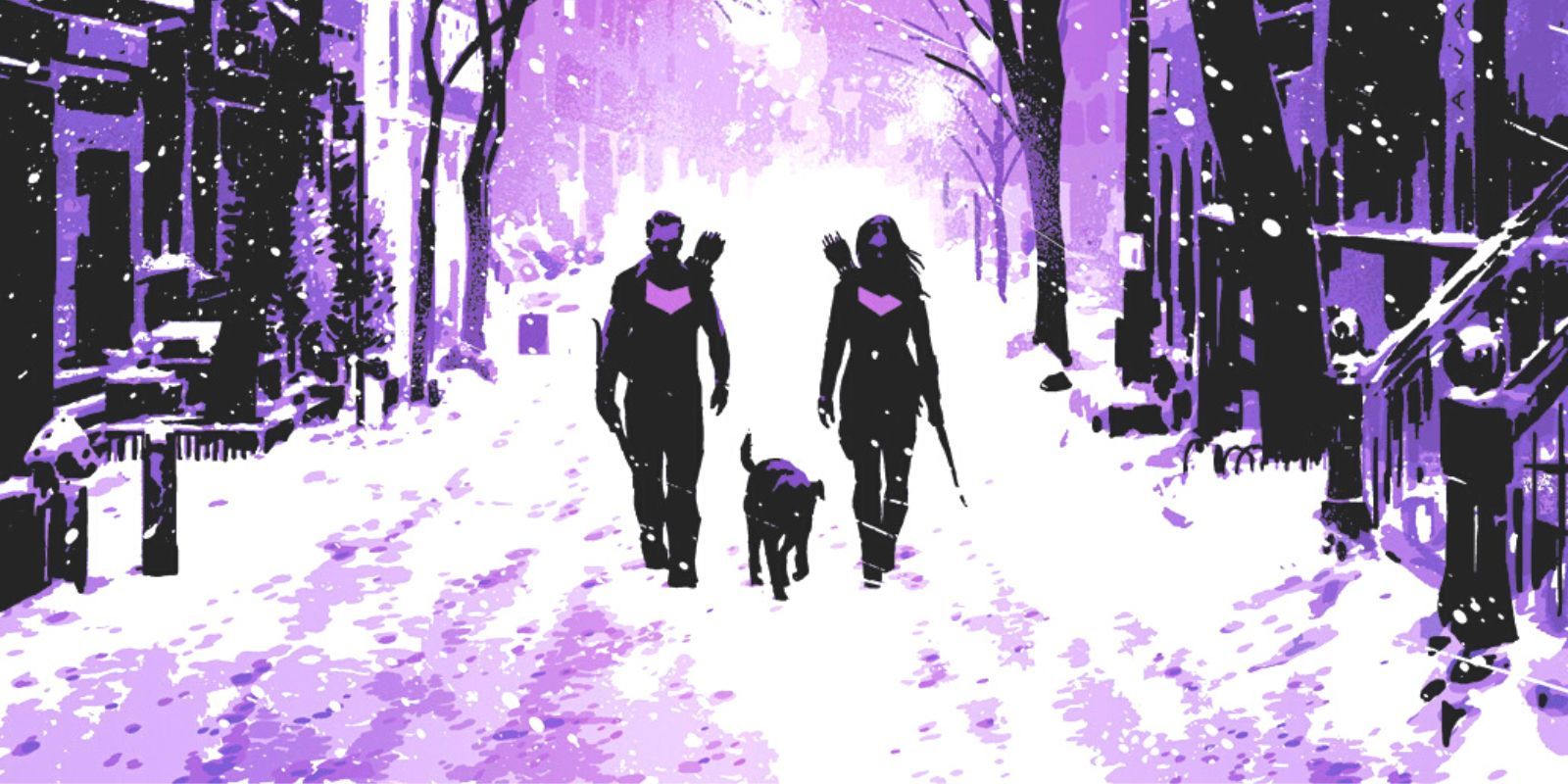 David Aja, the artist behind one of the most beloved comic incarnations of Hawkeyeshared previously unseen poster art for the Disney+ series.
Just in time for Christmas, Aja took to Twitter to reveal an image he created for 2021's holiday theme Hawkeye show that was ultimately not used for any marketing. It shows Clint Barton and Kate Bishop walking down a snowy residential street in New York City with their faithful companion Lucky the Pizza Dog. Aja's intent, he made clear, was not to fuel yet another controversy about Disney's behavior with artists, writing "no conspiracy, please." He wrote that he was aware that Disney+ was using his design as the basis for another poster; his resembles a widely used promo image with the same characters facing in a different direction, walking in a more high-rise landscape. He also pointed out that he was paid for his work.
RELATED: Two classic Avengers began their romance as bitter enemies
Aja, a Spanish-born and Spain-based artist, has previously criticized Disney for not paying cartoonists for adaptations of their work. He made the comment in an apparently light-hearted Twitter exchange, responding to another tweet about Disney not properly crediting cartoonists in film and TV versions: "Even better: Stop crediting, start paying, haha."
A story of Hawkeye
The comment referred to the fact that Hawkeye series on Disney+ was heavily inspired by his and writer Matt Fractions' run on Hawkeye comics from 2012 to 2015. For Marvel, Aja has also worked on Daredevil and The Immortal Iron Fist, collaborating on both series with acclaimed author Ed Brubaker. Most recently, he has created artwork for Batman Black & White.
RELATED: Marvel's Goldens Team Up as Cosmo Canine Actor Meets Hawkeye's Lucky
The streaming show Hawkeye was released during the 2021 Christmas season and tells the story of Clint Barton as he tries to get home to his family in time for the holidays while battling enemies old and new. As his list of adversaries grows, he is also forced to reluctantly break in with the next Hawkeye, spunky young Kate Bishop. It also featured the first appearance of Alaqua Cox as Echo, whose spinoff show is expected to debut in late 2023.
While there has never been a confirmation for a second season, the show's original series is currently being promoted again by Disney+ for its timely holiday theme. All six episodes are streaming on the service.
Source: Twitter