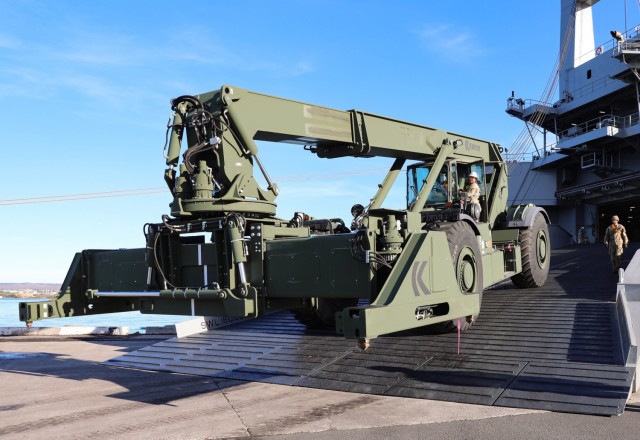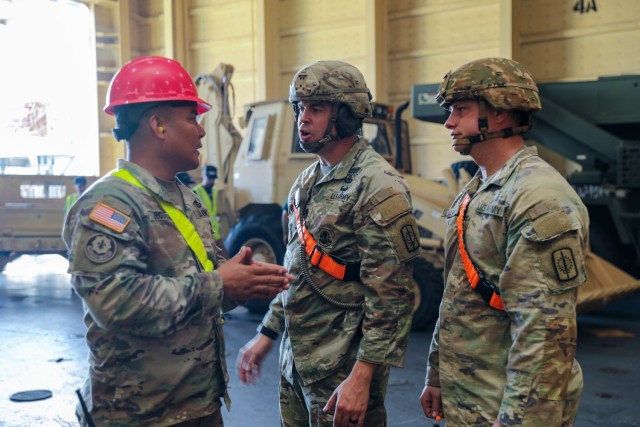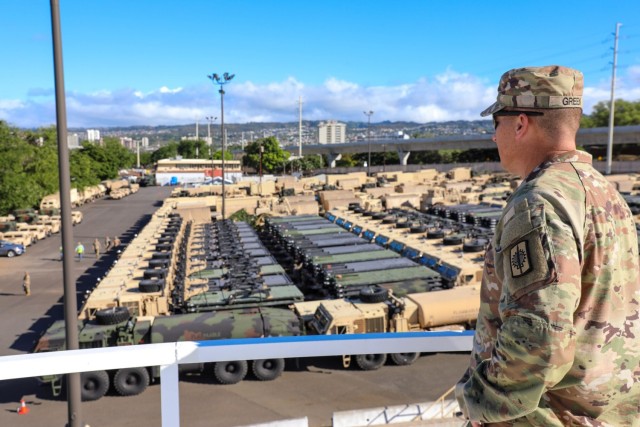 JOINT BASE PEARL HARBOR – HICKAM, Hawaii – The 8th Military Police Brigade conducted a week-long commando operation to download and stage approximately 500 pieces of military equipment, as part of Army Prepositioned Stock-3 (Afloat) Fixed-Forward, here, Nov. 29. – Dec. 1.
The "Watchdogs" Brigade exercised oversight as Command and Control (C2) authority over the movement of each piece of equipment unloaded from the USS Watson.
In support of Operation Pathways 2023, military vehicles, trailers and containers were loaded onto the US Naval Ship Watson in Charleston, South Carolina, and then shipped to Hawaii to be staged in preparation for onward movement.
The APS-3 equipment movement was accomplished with the help of 25th Infantry Division, 402nd and 404th Army Field Support Brigades, Army Materiel Command, Naval Cargo Handling Battalion, Naval Support Fleet Command, US Army Transportation Command, and Military Sealift Command service members and civilians. A total of 385 rolling stock together with 127 containers were unloaded during the first mission of its kind for "Watchdogs".
"It's always easier when the unit we're working with has the passion and desire that we do to complete the mission efficiently and safely," said Manuel K. Galera III, Ocean Terminal's deputy director, NAVSUP Fleet Logistics Center, Pearl Harbor. "The 8th MP Bde. came in with good attitudes and the desire to succeed in completing the mission and did it so well that you would never believe it was their first experience in a vessel relief evolution."
The floating stock, a cornerstone of the Army's ability to rapidly project power and send a clear signal of America's commitment to the Pacific, will undergo inspections by the Department of Agricultural Fishery and Forest once it is unloaded and staged at Pearl Harbor, to enable use for future operations and exercises. The following phases of the operation, which include maintenance, inspection, security and eventual reloading of each vehicle, will take place over the coming months.
"Overall, I would categorize the operation as an extreme success," said Col. Charles A. Green, the 8th MP Bde. Commander. "We did what we thought would take about five days in three days. It is really the common nature that brought everyone together in the execution we had here."
Key management from 8. MP Bde. was tasked with making personnel and equipment responsible throughout all phases of the unloading. From ensuring that the required number of qualified drivers were available to move the vehicles from the vessel, to risk management and safety when the stock was moved to the staging areas, the "Watch Dogs" team ensured the successful completion of the unique mission they were given.
"With so many agencies coming together, we were able to remain flexible and agile as we adapt to changes given from higher echelons," said 1st. Sgt. Aaron Duhachek, 8th MP Headquarters, Company Headquarters Sergeant Major.
The U.S. Army's forward-positioned inventory, both land-based and afloat, enables materiel power projection worldwide, allowing organizations to access forward-positioned resources during readiness and strategic operations, such as Operations Pathways. The flexibility of the Soldiers and leadership of the "Watchdogs" brigade proved instrumental in accomplishing the subsequent mission that helps support a free and open Indo-Pacific.
"We understand the difficult dynamics of operating in such an important part of the globe right now," Duhachek said. "We see the impact this exercise has on not just the Army, but the involvement of the entire US military. Each branch involved tested their systems and processes and showed we can dominate the basics. I walked away satisfied knowing my team and I'm ready to carry out tasks that have an impact at theater level."