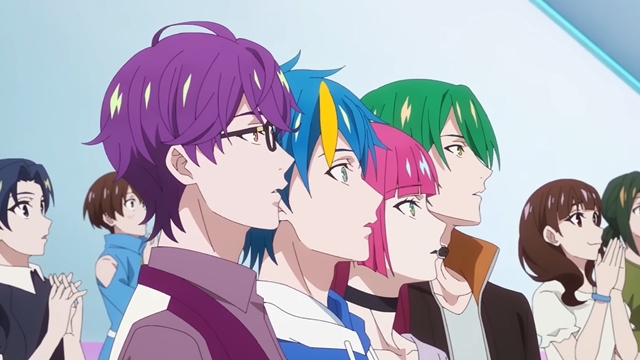 Right after the first episode's preview event in Tokyo on Monday, the official website for the upcoming winter 2023 TV anime Technoroid Overmind released a new PV introducing opening and ending theme songs – "LOVE DON'T HATE" by KNoCC and "Invisible -One Heart-" by KNoCC and STAND-ALONE. The CD singles for both songs are due for release on 22 February 2023.
RELATED: Robo-Idol Anime Technoroid Overmind Shares January Debut, Key Art
Technoloid is a mixed media project co-produced by CyberAgent, avex pictures and Elements Garden. Follows the smartphone game app Technoloid Unison Heart released in January 2022, the Doga Kobo-produced TV anime Technoroid Overmind will premiere in Japan on January 4, 2023. The anime's official website introduces the synopsis as below:
A world where most of the Earth has been submerged under water due to a rapid increase in temperature caused by abnormal weather. The world is controlled by the World Governing Organization, which has recommended that robots and androids take over the workforce due to population decline.
And then – an abandoned house on the outskirts of town. For some reason, four androids, Cobalt, Kei, Chrome and Neon, who have no owner, live in this communal house that people have forgotten. – But then a problem arose for them.
"No electricity bill means – no charging?" "Which means…Forced shutdown!?" To pay the electricity bill, they challenge the towering entertainment tower "Babel", a symbol of the new age.
"Babel" is a place where artists, known as Climbers, enthusiastically challenge the summit in search of inspiring experiences, while being thrilled by the climactic stages that unfold. It is an entertainment tower of hope for those who had lost the joy of light.
In Babel, where the absolute champion, STAND-ALONE Alone, reigns, androids try to win prize money to win prizes by clearing the stages through singing performances.
On their way back from their first challenge to Babel, they meet a boy genius. The moment they touch the boy's "heart", a special program is suddenly activated in the four of them -.
Key Visual:
Main Voice Cast:
KNoCC members:
Cobalt: Kazuki Ura

Chrome: Satoi Shibuya

Kei: Hiromu Mineta

Neon: kayto
Independent members:
Dragon: Makoto Furukawa

Light: Keigo Hagiya

Night: Gakuto Kajiwara
---
Source: TV anime "Technoloid Overmind" official website
© Shibaura Android Laboratory / TECHNO-OM project