Anime tourism is making the rounds across Japan as a growing number of anime and manga fans visit the locales featured in their favourites.
Municipalities and shopping districts in such areas use a variety of tactics to bring in sightseers in hopes of attracting repeat visits.
Some aficionados have even moved to regions they learned about through the fictional stories.
ROLL OUT RED RUNNER
Located near the border between Wakayama and Osaka prefectures, the Kojimaichi Shoten grocery store in Wakayama city's Kada fishing district is packed with a stream of visitors who enjoy photographing the store's facade.
The outlet's manager, Shuichi Kojima, 61, said up to 30 to 40 people a day are there on weekends. The phenomenon became a trend in April, when the anime version of a manga called "Summer Time Rendering", set in Wakayama, began airing.
The sci-fi thriller title was first serialized in 2017 in Shueisha Inc.'s online magazine. The main character repeatedly travels back in time to investigate the unexplained death of a childhood friend, as well as mysteries about an island's tradition.
"Summer Time Rendering" features Wakayama's landscape and features conversations in the region's dialect. Kojimaichi Shoten is also featured.
As a rice cake flavored with mugwort, referred to in the anime as "the island's specialty," is available in the store, many fans visit to purchase the delicacy at the store.
Kojima said he watched the anime every week and put up the title poster in his store to roll out the red carpet for those who love "Summer Time Rendering."
"I really appreciate the many fans who have shown up, now that fewer tourists are coming because of the new coronavirus crisis," Kojima said.
PORTRAITS WAKAYAMA
The work's creator, Yasuki Tanaka, comes from Wakayama. He lived in the city until he finished high school.
After working on the concept for his new creation, Tanaka had the idea to create a manga set in Tomogashima, a remote island off Wakayama.
"Few manga are based in Wakayama," Tanaka recalled. "I felt that portraying it would matter."
Tanaka went to Wakayama to see places to be illustrated in his manga.
The noise of a steamship to ferry passengers to Tomogashima was recorded to be used in the manga's animated adaptation. A language coach was also hired to help voice actors speak in Wakayama's dialect.
The comic's publisher and the anime production company worked with local entities.
An event was held last year where participants unlocked mysteries on Tomogashima.
In March, the city of Wakayama appointed the manga's heroine, Ushio Kofune, as its emissary to promote tourism.
A map of famous places on Tomogashima has been published on the municipality's website and elsewhere, while life-size Ushio carvings have been set up at 10 locations in the city.
A municipal representative said that fans have been posting photos of their tours of the city on social media since the start of the anime broadcast.
"I would be thrilled if Wakayama attracts a lot of attention and is revived through my work," Tanaka said.
COLLABORATION CAKE, TOWEL
Fans traditionally visit anime settings, according to the Anime Tourism Association.
The practice quickly grew in popularity during the 2000s, as backgrounds began to be depicted in more detail in anime. Making pilgrimages to such "holy places" subsequently became the norm among anime fans.
Since 2018, the association has designated 88 so-called sacred destinations each year. Among them is the city of Oarai in Ibaraki Prefecture, which began to attract anime lovers after an anime titled "Girls und Panzer" aired in 2012.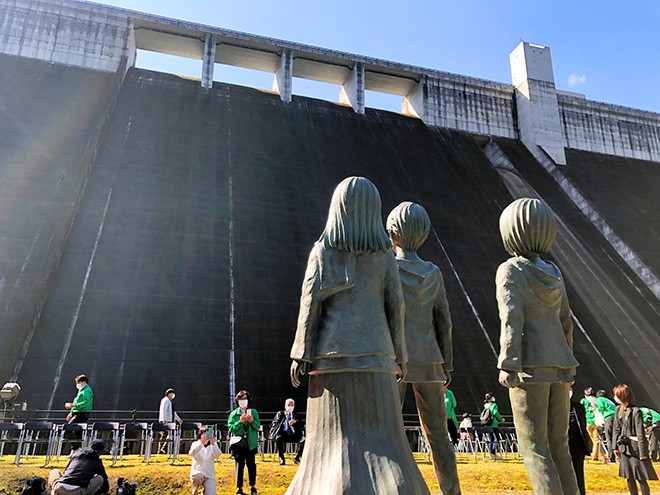 Data from the city's trade and industry association showed that 1,000 individuals showed up daily before the novel coronavirus pandemic, and people continued to visit there a decade after the end of the anime broadcast.
The title's producer negotiated with the city on many occasions before it aired, resulting in the installation of real-life cutouts of characters throughout the municipality.
Local shops, such as restaurants and clothing stores, were allowed to sell a specialized cake and a special towel inspired by the anime.
"Store operators have found the project fascinating and actively engaged in it, contributing to our success," said a representative of the city's trade and industry association.
Around 100 individuals are fascinated by "Girls and Bonnets" believed to have moved to Oarai.
Takeyuki Hibi, 41, who runs a cafe in the municipality, is one such newcomer.
"I first came here five or so years ago," Hibi said. "I was impressed that the settings from the anime actually exist."
Hibi explained that he was moved by the city's appeal, as the old sightseeing destination carefully used anime as a tourist resource. Residents warmly welcomed Hibi, even though he went there simply because he loves "Girls und Panzer".
"Falling in love with the city's cozy atmosphere, I moved here two years ago," said Hibi.
KEYS TO SUCCESS
In a similar example, the Washinomiyajinja Shrine in Kuki, Saitama Prefecture, is flooded with worshipers on New Year's Eve because the establishment is considered a holy place among fans of "Lucky Star."
A fictional festival from "Hanasaku Iroha" is reenacted every year in the Yuwaku Onsen resort in Kanazawa, where the anime was set.
The findings of a 2017 survey by the Development Bank of Japan show "Lucky Star" brought 3.1 billion yen ($20.9 million) to Kuki and other places in economic benefits over the 10 years from the beginning of the anime broadcast in 2007.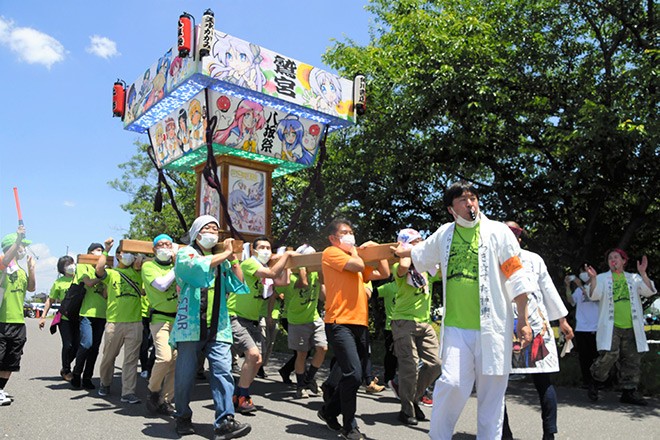 It produced not only sales of anime-related goods and food consumption by sightseers, but also employment of more than 300 people.
However, only a handful of communities have been significantly revitalized.
Norimichi Suzuki, executive director of the Anime Tourism Association, said residents and officials involved make all the difference.
"Visitors to sacred destinations not only take photos but also experience local specialties and cultures," he said. "What is important is to get them to find attractions in the process to encourage more people to come again.
"Anime creators and communities need to work towards the same goal for the benefits to continue to be seen, such as developing collaborative items using regional delicacies and anime."